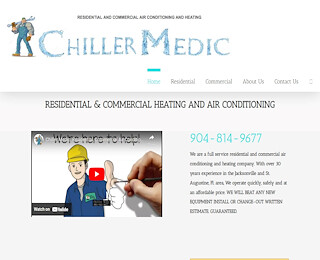 Your home is one of the most valuable investments you can have. The same goes with the items inside it, such as your air-conditioning unit. Having one is considered a good investment. Maintaining it is another story, yet it can cost you hundreds – even thousands of dollars, depending on the requirements needed for maintenance. 
Unless you know when it is time to do something about any of your air-conditioning issues, and where you can find an affordable AC repair in Jacksonville, FL, you will be able to save some cash. 
At Chiller Medic, we provide not only AC repair in Jacksonville, FL, and nearby areas, but also offer other services that cater to your air-conditioning needs. 
Air-Conditioning Service Estimated Costs
Air-conditioning maintenance is essential to keep your unit in optimal condition especially during hot and warm weather. Likewise, regular air-conditioner maintenance can also prolong your unit's lifespan. 
Taking maintenance for granted can result in undetected damages, cracks, burn, or the like within your air-conditioning unit components. Aside from that, inefficient air-conditioning units can also cause energy waste, resulting in higher electric bills. Most of all, your unit may fail on you at the most unexpected time and force you to buy a new unit that does not come cheap either. 
On average, a one-time maintenance visit can cost up to $100, while annual maintenance provided by HVAC companies can cost around $150. Some may even offer discounts and offer monthly payments for your maintenance contract. 
Ideally, air-conditioning maintenance should be scheduled once a year, preferably during spring, so that the personnel will be able to repair any damage during the winter season. At the same time, the unit can be all set in time for the hot weather during the summer season. 
Among different parts of an air-conditioner, the evaporator and condenser coils, and air filters are most prone to wear-and-tear due to their extensive functions. For example, dirty coils won't be able to remove the heat coming from the house or a building as efficiently. Thus, any damage present on the coils should be replaced immediately. In this case, evaporator coils can cost around $230 to $400 for replacement; while condenser coils can cost about $500 to $750 to replace. 
Dirty filters can also affect the air-conditioning unit's efficiency, and can even cause damage to the unit, too. Depending on the usage, your unit's filters should be replaced at least once a month, which can cost around $15 to $60. Some filters, on the other hand, are reusable and only requires regular cleaning. 
Refrigerant replacement can typically cost around $100, but it can go as much as $3,000 if there's leakage on your unit. Lastly, labor cost can range about $50 to $70 per hour.
At Chiller Medic, we offer all-around AC repair in Jacksonville, FL and nearby areas. So, for your air-conditioning requirements, you can contact us via landline or email us through this website. Our friendly and skilled personnel will gladly tend to your needs!
Ac Repair Jacksonville Fl
Chiller Medic
904-814-9677
2745 Industry Center Rd #7, St. Augustine, FL 32084
View Larger Map