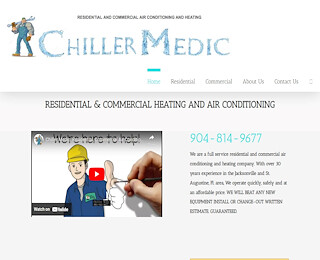 When summer comes knocking, staying cool is usually the first thing on most people's minds. The problem is, keeping cool during the hottest months of the year can be pretty expensive. Running air conditioners constantly can not only be costly to your electric bill, but it can also cause a lot of wear and tear on your AC unit. When shopping for AC installation in Jacksonville, companies like Chiller Medic offer a great way to make sure your AC is installed and running flawlessly during the summer.
Here are some tips for helping you stay cool during the summer without killing your budget.
Keep Some Lights Off
Traditional lighting fixtures in your home can actually put out a lot of heat over time, especially if you constantly leave your lights on. To help stay cool, consider turning your lights off during the day. This not only is great for the environment by reducing your footprint, but it also helps you save a lot of money in the long run. Another tip you can follow is keeping your blinds in the house closed during the day. This will help to reflect the sunlight and heat coming from your windows.
Insulate Your Home
Properly insulating your home isn't just important for heat retention, it can also help keep your house cool during warm days. Just like a thermos or cooler, insulation helps to regulate temperature and stops warm air from getting in. You can use blinds and drapes to help your insulation efforts, stopping heat from entering in through your windows. A great tip for staying cool is to keep your windows open during the night time, but keeping them closed during the hottest part of the days. It will take longer for the home to warm up this way and reduce the need to put too much wear and tear on your air conditioner.

BBQ Outside More Often
One of the greatest things about summer is enjoying the sunshine. You can kill two birds with one stone by barbequing and eating outside more often, keeping your house as cool as possible. Large amounts of heat can come from stoves and ovens, so minimizing their use during the summer will help from making your home too warm. Having people eat outside more often will also help control the amount of body heat in your house. You'd be surprised how easy it is for temperatures to rise in your home when you have three or four people hanging out in the living room.
Check Your Ceiling Fan Rotation
One thing a lot of people forget to do during the summer months is to check their ceiling fan rotation. During the summer, you should make sure your fan rotation is set to blow air down. This creates a vortex that draws warm air up and disperses more cooling air. In winter, the setting is reversed, pushing warm air down that's risen toward you. Remember to check your ceiling fan rotation also gives you a great chance to clean the ceiling fan blades that you've forgotten about, leading to better air quality.
Regardless of all the steps, you take to stay cool during the summer, there is no substitute for a properly functioning air conditioning unit. Chiller Meddic provides the most modern and cost-effective solution to installing and servicing your residential and commercial air conditioning units. Give them a call today and let them help you stay cool this summer.
Ac Installation Jacksonville
Chiller Medic
904-814-9677
2745 Industry Center Rd #7, St. Augustine, FL 32084
View Larger Map